Posts for: July, 2013
By Mississauga Dental Arts
July 23, 2013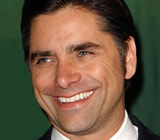 We're always tickled to see dentists represented in popular culture, especially when portrayed by an actor as handsome as John Stamos. On the hit television show Glee, Stamos played a dentist who made sure the glee club members cleaned up their act when it came to oral hygiene — though perhaps he used a bit too much anesthesia to achieve this admirable goal. While under his care — and lots of sedation — several Glee characters had music-infused hallucinations in which they danced and sang with pop star Britney Spears.
Far-fetched? No doubt. Still, it's worth mentioning that sedation has its place in dentistry. In fact, if you are someone who tends to get anxious or even fearful about dental treatment, you should know that sedation can help you relax both mind and body so you can feel peaceful rather than anxious in the dentist's chair. And that's the whole point: Fear of pain should not stand in the way of your getting the care that will keep you healthy and allow you to keep your teeth for as long as possible.
You may not know this, but when you are afraid, your threshold for pain is actually lower. You become hypersensitive to every sensation and sound, and you tense your muscles. Fear and anxiety trigger the release of certain chemicals that put you in "fight or flight" mode. In this heightened state of alert you experience more pain during and even after treatment.
The good news is that this response can virtually be eliminated with various oral sedatives and/or with nitrous oxide, which is inhaled. Both treatments will allow you to let your guard down and relax. Your apprehension and hypersensitivity to pain will disappear, even though you are still conscious. And when you are relaxed, we are better able to focus on the task at hand, knowing that you are comfortable.
The sedatives used in dentistry have been subjected to rigorous testing and have a strong safety record backed by decades of use. Several even have "amnesic" properties, meaning that you will remember little to nothing of your treatment — unless, of course, you end up singing and dancing with Britney Spears!
If you would like more information about sedation in dentistry, please contact us or schedule an appointment for a consultation. You can also learn more by reading the Dear Doctor magazine article "Oral Sedation Dentistry." Dear Doctor also has more on "Overcoming Dental Fear & Anxiety."
By Mississauga Dental Arts
July 08, 2013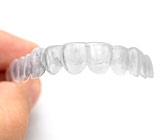 Finally: Your braces are off! Break out the taffy, bubble gum, corn on the cob... and... whoa!!... the retainer?
Yes, the retainer. As the name implies, this simple device will ensure that your pearly whites remain in the new, desired position you've worked so diligently to achieve. Here's why:
The same physiological properties that allow your teeth to move when you're wearing braces are always at work — braces simply direct that movability in controlled ways. Teeth are not set into your jaw bone like posts fixed in concrete; rather, the root portion is attached to the bone by elastic periodontal (peri – around; odont – tooth) ligaments that permit micromovement of teeth all the time. The periodontal tissues are living; therefore, they are always changing and "remodeling" (just as hair grows, skin peels, etc.) When a light orthodontic force is placed on a tooth the following processes occur:
on the pulling or tension side, the periodontal ligament will activate bone-forming cells (osteoblasts) to deposit new bone to fill in the area from where the tooth was previously, and
on the pressure side, the periodontal ligament will activate bone-resorbing cells (osteoclasts) to remove bone allowing the tooth to move in that direction.
Visualize drawing your hand forward through water: The water parts in front of your hand and fills in behind it.
Once your teeth are in their desired position and your braces are removed, your teeth will tend to return to their old position if they are not stabilized or "retained" in their new one long enough for the bone and ligament to re-form and mature around them. This can take several months. In addition, orthodontic treatment stretches collagen fibers in gum tissues to some extent, contributing to the forces that tend to shift teeth back in the direction from which they came. The gum tissues will continue to exert this pressure until these tissues remodel. This can take longer than the bone and ligament stabilization, as collagen cells reorganize at a much slower rate.
Types of Retainers
The type of retainer you will use, how frequently and for how long will depend on your unique situation. The most familiar type of retainer is removable and one you may not have to wear all the time, at least after the first couple of months. In cases where the retainer is going to be needed for a long-term period, a common alternative is to have thin retainer wires bonded to the inside surfaces of the front teeth so they don't show.
Considering how much time, effort, and sometimes expense is required in improving your smile, the retainer is your assurance that it was all well spent. Even people getting a comparatively simple pedicure/manicure don't leave the salon without letting the polish dry!
If you would like more information about orthodontics and retainers, please contact us or schedule an appointment for a consultation. You can also learn more about this topic by reading the Dear Doctor magazine articles "Why Orthodontic Retainers?" and "The Importance of Orthodontic Retainers."