Posts for: April, 2013
By Mississauga Dental Arts
April 20, 2013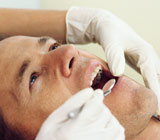 Research has shown that periodontal (gum) disease can affect the health of your whole body. Evidence suggests a relationship between severe gum disease and cardiovascular disease ("cardio" – heart; "vascular" – blood vessel), conditions that lead to heart attacks and strokes. There is also a relationship between gum disease and pregnancy; mothers with severe gum disease have a higher incidence of pre-term delivery and low birth-weight babies. To understand gum disease, you may find the following facts helpful. How many are you aware of?
Periodontal disease — Any disease that affects the areas around the teeth. The word comes from the Latin "peri" meaning around and Greek "odont" meaning tooth. Periodontal disease, or gum disease as it is commonly called, is really a group of diseases with the same outcome: destruction of the periodontal tissues, loss of supporting bone and ultimately the loss of your teeth.
Dental plaque (Biofilms) — A bacterial film that forms on teeth at the gum line, and the reason we brush and floss. Its daily removal is necessary to keep your teeth and gums healthy. A biofilm is a biological film comprised of colonies of living organisms that are generally specific to a particular eco-system. Plaque is one type of biofilm.
Gingivitis ("gingiva" – gum; "itis" – inflammation) — A response of the gum tissues to plaque biofilm that is left undisturbed (due to ineffective, or inadequate oral hygiene). It is the first stage of periodontal disease.
Pocket formation — Just like a pocket on your clothing, pocket formation is the result of separation of the gum tissues from their normally healthy tight attachment to a tooth. Pocketing allows the introduction of bacteria, which perpetuate gum disease.
Abscess — A collection of pus that forms within diseased periodontal tissues. It is experienced as pain, swelling, and discharge of pus from the gum tissues and is an advanced sign of periodontal disease.
Important Tip — Bleeding Gums when brushing teeth or flossing is not normal. It is a warning sign of early gum disease that you should bring to the attention of our office.
Contact us today to schedule an appointment to discuss your questions about periodontal disease. You can also learn more by reading the Dear Doctor magazine article "Understanding Gum (Periodontal) Disease."
By Mississauga Dental Arts
April 04, 2013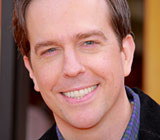 The lengths that some comedians will go to for a laugh! Actor Ed Helms, as dentist Stu Price, pulled out his own tooth in the movie The Hangover. Or did he? Turns out Helms really is missing a tooth, which never grew in. When he was in his late teens, he received a dental implant to make his smile look completely natural.
Helms told People magazine he wasn't exactly eager to remove the implant crown that had served him so well for almost 20 years, but there was no better way to do the famous tooth-pulling scene.
"We started to do different tests with prosthetics and blacking it out and nothing worked," Helms told the magazine. Helms' dentist said it would be okay to take the implant crown out. "My dentist was really into it," Helms said. The rest is movie history!
Congenitally missing ("con" – together with; "genital" – relating to birth) teeth are inherited and actually quite common. More than 20% of people lack one or more wisdom teeth, for example. These would not usually be replaced if missing (in fact, wisdom teeth are often removed) but it's a more serious issue when the missing tooth is in the front of the mouth — and not just for aesthetic reasons.
When a particular type of tooth is missing, it disrupts the pattern and function of the teeth. If left alone, sometimes the existing teeth will shift to close the gap. It's like removing a brick from an arch — the rest of the bricks would fall together in a different formation (or collapse entirely). And when upper and lower teeth don't come together properly, they can't function well.
The best treatment for this type of situation is the one Ed Helms had: a dental implant. They look and function like real teeth and do not attach to or damage adjacent teeth as other tooth-replacement options might.
It is important that a child with a congenitally missing tooth wait until jaw growth is complete — different for every person but usually in the late teens — before getting an implant. Otherwise, the artificial tooth might eventually appear too short when the person has stopped growing. In the meantime, there are temporary tooth replacements that can be made.
If you would like more information about options for congenitally missing teeth, please contact us or schedule an appointment for a consultation. You can learn more by reading the Dear Doctor magazine article "When Permanent Teeth Don't Grow." Dear Doctor also has more on "Teenagers & Dental Implants."