Posts for: March, 2013
By Mississauga Dental Arts
March 22, 2013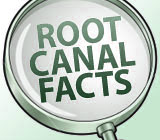 If the words "root canal" frighten you, what you probably don't know is that "root canal treatment" doesn't cause pain, it alleviates it — by treating infection deep in the root of your tooth.
What is a root canal? The central chamber of a tooth contains the living vital tissues comprising the pulp including its nerves and blood vessels. The interior of the tooth's roots containing the pulp make up its root canals.
How do I know if a tooth has a root canal infection? Symptoms of root canal infection may include sharp, intense pain when you bite down, a dull ache or pressure, or tenderness and swelling in gums near an infected tooth. There may be lingering pain after eating cold or hot foods. However, sometimes an infected tooth may stop hurting and you no longer feel pain. This doesn't mean the infection has gone, only that the nerve may have died. Make an appointment if you suspect that you have any or some of these symptoms.
Why would a tooth need root canal treatment? If the tissues in the root canal/s become infected or inflamed because of deep decay or trauma to a tooth, root canal treatment is needed to treat the infection and save the tooth. If left untreated, root canal infection can spread into the bone immediately around the root.
What takes place in a root canal procedure? After a local anesthetic is administered to numb the tooth and surrounding area, a small opening is made in the biting surface for a back tooth, or behind a front tooth. Dead and/or dying tissue is removed from the pulp chamber and the root canals are cleaned, disinfected, and sealed to prevent future infection.
What can I expect afterwards? Your tooth may feel tender or sensitive for a few days. You can take over-the-counter non-steroidal anti-inflammatory medication, aspirin or ibuprofen, for example, to relieve pain or discomfort. Contact us if you have pain that lasts more than a few days. A crown is usually needed to protect the tooth following root canal treatment. Further arrangements need to be made for this stage of the procedure. Don't chew on the affected tooth until symptoms subside and the tooth has been restored as necessary.
Who performs root canal treatment? While all general dentists have received training in endodontic treatment and can perform most endodontic procedures, in complicated situations you may be referred to an endodontist, a specialist in root canal diagnosis and treatment.
Contact us today to schedule an appointment to discuss your questions about root canal treatment. You can learn more by reading the Dear Doctor magazine article "Common Concerns About Root Canal Treatment."
By Mississauga Dental Arts
March 07, 2013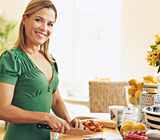 Junk food and between-meal sweets are a habit for many of us, even though we know it is bad for our bodies and our teeth. As adults, we are responsible for our own choices. As parents, we are also responsible for our children's choices, and for teaching them to choose wisely.
Celebrity Chef Cat Cora offers the following six suggestions for leading children to a healthy lifestyle. Cora is a star of Iron Chef America and author of Cat Cora's Classics with a Twist: Fresh Takes on Favorite Dishes, in which she reveals healthier versions of classic recipes. In her remakes she shows how to cook with a lot of flavor while reducing fat and sugar. Cora has four young sons, so her methods are not just theories — they have been practiced in real life.
1. Remember who's the boss.
"My kids have never had fast food," Cora said in a recent interview with Dear Doctor magazine. "The parents have a choice to do that or not," she said. "The kids are not going to the grocery store to shop; the kids are not driving themselves through fast food chains."
2. Make your rules clear and stick to them.
"Right now my 7-year-old tries to be picky, but it's really about us being consistent as parents," Cat said. For example, in her household pizza is served only at the weekly pizza and movie night. The kids get a healthier version of what they want, so they don't feel deprived. The evening includes air-popped popcorn without butter — and no soda, which is bad for teeth because of its sugar and other chemical ingredients.
3. Offer your children a variety of foods and tastes.
Cora made sure her children tried different foods and spices from infancy, so they are open to trying new things. It's easier to get all the nutrition you need if you eat a wide variety of foods.
4. Learn to make tasty substitutions for sugar.
When her children were babies, Cora stopped relying on bottles and sippy cups as soon as possible, reducing her children's likelihood of developing tooth decay due to sugary residues remaining in their mouths. Now that they are older, she uses tasty substitutes for sugar such as fruit purees and the natural sugar substitute Stevia.
5. Include the children in meal planning.
Kids are more likely to eat a meal they are involved in planning and cooking. For example, ask them which vegetable they would like to have (not whether they want to have a vegetable).
6. Model healthy behavior for your kids.
Parents are the best role models. This is true not only for food choices, but also for exercise and maintaining a healthy lifestyle.
Contact us today to schedule an appointment to discuss your questions about oral health. You can also learn more by reading the Dear Doctor magazine article "Cat Cora."