Posts for tag: root canal
By Mississauga Dental Arts
February 01, 2020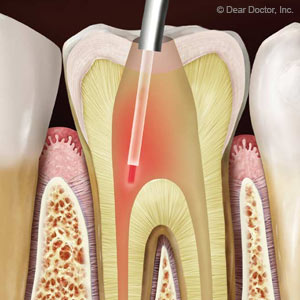 Root canal treatments are an essential part of dental care — countless teeth with deep decay would be lost each year without it. Now, this traditional dental care procedure is advancing to a new level of precision through lasers.
Root canal treatments have a simple goal: access a tooth's infected pulp and root canals, clean out the infected tissue and fill the empty pulp chamber and canals with a special filling. Once filled, the access is sealed and a porcelain crown later placed for additional protection against re-infection.
In the traditional procedure, we perform these steps manually with a dental drill and hand instruments. We may also need to remove a good portion of tooth structure, both healthy and infected tissue. A laser, on the other hand, is a highly focused beam of light with the ability to interact with healthy and infected tissues differently: destroying infected tissue while having no effect on nearby healthy tissue. The end result: we may be able to remove less healthy tissue with lasers than with the conventional procedure.
Lasers are also helpful with softening and precisely molding the filling material within each canal's particular shape. And, early reports seem to indicate a higher degree of comfort for patients (less drill noise and need for anesthesia), less bleeding and faster recovery times than the conventional approach.
But as a tool for root canal treatments, lasers do have a couple of disadvantages. While light travels in a straight line, root canals are rarely straight — conventional instruments with curved designs usually accommodate odd canal shapes better than a laser. Lasers can also raise temperatures within a tooth that can damage healthy tissue, both within the pulp and outward into the dentin.
Still, lasers for root canal treatments appear promising with some dentists using a combination of lasers and manual techniques to garner benefits from both approaches. While you won't see lasers replacing the traditional root canal treatment anytime soon, the future looks bright for more efficient ways to treat deep tooth decay.
If you would like more information on your options for root canal therapy, please contact us or schedule an appointment for a consultation.
By Mississauga Dental Arts
April 17, 2014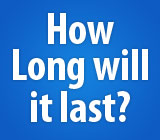 Perhaps you've been told that you need to have root canal treatment in order to save one or more of your teeth. By now, you know that the procedure itself is essentially pain-free, and that it has an excellent chance of success. But you may be wondering — just how long can you expect that "saved" tooth to last?
The short answer is: decades… or even a lifetime. But in just the same way that no two fingerprints are exactly identical, neither are any two teeth with root canals. There are some factors that could result in one tooth having a greater longevity after root canal treatment (RCT) than another — but before we go into them, let's look at what RCT actually involves.
When infection and inflammation is allowed to get a foothold deep inside a tooth — usually due to uncontrolled decay or trauma — the nerves, blood vessels and connective tissue that make up the tooth's pulp begin to die. If left untreated, the infection can spread out of the tooth and into the bone of the jaw. This may lead to further problems, including the development of a painful abscess, and eventual loss of the tooth.
Root canal treatment involves gaining access to the infected pulp tissue through a tiny hole made in the tooth, and then removing it. Next, the space inside the tooth is disinfected and filled with sterile material, and the access hole is closed. Afterward, a crown or "cap" is often needed to protect the tooth and restore it to full function in the mouth.
One factor that can influence how long a treated tooth will last is how soon the tooth is restored following the root canal procedure: The sooner it receives a permanent filling or crown, the longer it is likely to last. Another factor is whether or not the underlying infection has spread into the bone of the jaw: A tooth that has received RCT promptly, before the infection has had a chance to spread, is likely to have greater longevity.
Some of the other factors that may influence the longevity of a tooth after RTC are: the location of the tooth (front teeth are easier to treat and receive less biting force than back teeth); the age of the individual (teeth become more brittle over time); and what other work needs to be done on the tooth (such as the placement of posts, which may in time weaken the tooth's structure.) In general, however, there's no dispute that a tooth which has received a quality root canal treatment should last for many years to come — if not an entire lifetime. And to many people, there's simply no substitute for having your own natural teeth.
If you would like more information about root canal treatment, please contact us or schedule an appointment for a consultation. You can also learn more by reading the Dear Doctor magazine article "Root Canal Treatment: How Long Will It Last?"
By Mississauga Dental Arts
March 22, 2013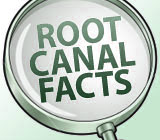 If the words "root canal" frighten you, what you probably don't know is that "root canal treatment" doesn't cause pain, it alleviates it — by treating infection deep in the root of your tooth.
What is a root canal? The central chamber of a tooth contains the living vital tissues comprising the pulp including its nerves and blood vessels. The interior of the tooth's roots containing the pulp make up its root canals.
How do I know if a tooth has a root canal infection? Symptoms of root canal infection may include sharp, intense pain when you bite down, a dull ache or pressure, or tenderness and swelling in gums near an infected tooth. There may be lingering pain after eating cold or hot foods. However, sometimes an infected tooth may stop hurting and you no longer feel pain. This doesn't mean the infection has gone, only that the nerve may have died. Make an appointment if you suspect that you have any or some of these symptoms.
Why would a tooth need root canal treatment? If the tissues in the root canal/s become infected or inflamed because of deep decay or trauma to a tooth, root canal treatment is needed to treat the infection and save the tooth. If left untreated, root canal infection can spread into the bone immediately around the root.
What takes place in a root canal procedure? After a local anesthetic is administered to numb the tooth and surrounding area, a small opening is made in the biting surface for a back tooth, or behind a front tooth. Dead and/or dying tissue is removed from the pulp chamber and the root canals are cleaned, disinfected, and sealed to prevent future infection.
What can I expect afterwards? Your tooth may feel tender or sensitive for a few days. You can take over-the-counter non-steroidal anti-inflammatory medication, aspirin or ibuprofen, for example, to relieve pain or discomfort. Contact us if you have pain that lasts more than a few days. A crown is usually needed to protect the tooth following root canal treatment. Further arrangements need to be made for this stage of the procedure. Don't chew on the affected tooth until symptoms subside and the tooth has been restored as necessary.
Who performs root canal treatment? While all general dentists have received training in endodontic treatment and can perform most endodontic procedures, in complicated situations you may be referred to an endodontist, a specialist in root canal diagnosis and treatment.
Contact us today to schedule an appointment to discuss your questions about root canal treatment. You can learn more by reading the Dear Doctor magazine article "Common Concerns About Root Canal Treatment."